Rompossible by Root of Magic
Root of Magic's new product, Rompossible, gives us the solution to card tricks that seemed impossible even for magicians.

The spectator freely picks a random card. No need to force or use multiples of the same card.
You don't even have to look at the back of the cards, or peek at the selection.
The amazing thing is that the spectator gets to push the card into the deck anywhere they want.
You will be able to find the selection, without a hint, after a riffle shuffle, cut, or even after the spectator mixes the cards face up to face down.

Rompossible contains the Rompossible deck that has the exact same quality as the Bicycle deck made by the U.S. Playing Card Company.
Also, it teaches you three powerful card effects: Rom Key, Double Rom Key, and Romemory.

Rom Key - The spectator chooses any card from the shuffled deck. After the spectator puts the card into the deck anywhere they like, you will be able to know what their selection is.

Double Rom Key - Two spectators each take half of the deck, and pick a random card from a completely shuffled packet. You will be able to know the selection without any hint.

Romemory - It's the new presentation of memorizing the deck. The magician memorizes the shuffled deck of cards. In doing this, the magician can notice the one card whose position has been moved, and it's the selection!

Now enjoy the impossible, Rompossible, by Root of Magic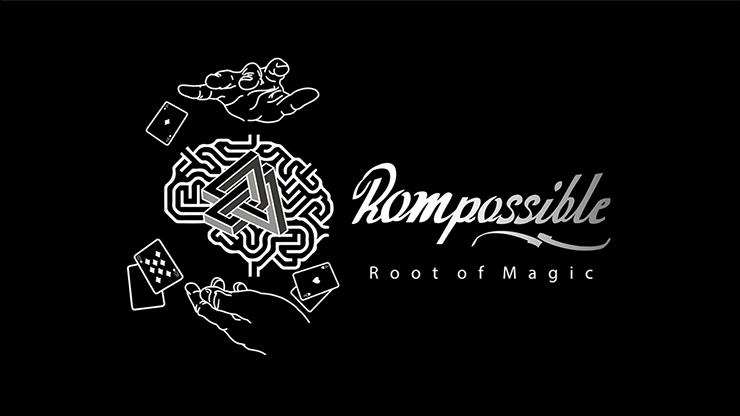 Average Customer Rating:
1 Most useful customer reviews
david fearn
Mar 3, 2017
excellent quality before looking at the on line instructions I looked at the deck of cards. I could not see the gimmicks. after twenty minutes I looked at the instructions and it was fantastic.
Advantages:
very easy to do so you can concentrate on the presentation.
Disadvantages:
instructions are in a foreign language but the subtitles are adequate.