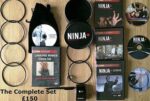 Ninja Plus Deluxe Set Black with 5 DVDs and tons of extras
Ninja Plus Deluxe Set Black with 5 DVDs and tons of extras
$150.00
This complete set let's you join the 4 rings together as well as performing Ninja+.
Not only do you receive all of the rings, you also receive all the DVDs, The Linking Rings Guide as well as Ninja+ Volumes 1-4, along with tons of extras!
This is the ultimate set.
994 in stock