Method Impossible by Jason Messina eBook DOWNLOAD
Impossibilities made possible, ideas made real.

The mindset of someone who creates magic is a unique one. It certainly has uses that extend for beyond magic. Ideas float through our heads all day long. You can create original, beautiful and completely impossible magic.

This little manuscript was built out of that. The notion that you could do anything. That no method was out of the question and no effect couldn't be accomplished. People began to talk a lot about what came next. The impossible is hard to believe, especially when it's true.

The ideas, routines and methods are meant to collide with your thoughts - head on. The intent is to cause some friction with your own ideas, stretch them out a little. The friction is meant to create sparks of new thoughts, new ideas, new ways of seeing the world, to push you over the edge and off the cliff. Once there, it's up to you to explore.

All you have to do is look around - Method Impossible.

Contents:
The Accidental Coin Vanish - This is the ONLY coin trick Jason Messina ever does. Try it once and you'll be hooked.
The New Mental Midget - A wicked idea that can be used over Skype, Facetime, etc. Will open up a hole inside your head to come up with your own crazy tricks based on the principle.
Split Tunnel Vision - A play on an impossible Paul Harris trick from AoA. Takes it to it's impossible and inevitable illogical conclusion.
The Kidnapped Princess - Uses the classic Princess Trick as a starting point and ends up with a kidnapping. Warning: this trick uses live humans.
The World's First Impromptu Anywhere, Anytime Plane Vanish - Yes, you can make a plane vanish in the air. And you can do it naked. Throughout the book you'll follow the creative process that came up with the final solution and some fun ideas to bring this completely into the world of the surreal.
This is by far Jason Messina's most "progressive" little booklet to date. As such, this will not be for everyone. If you're looking for tricks to add to your repertoire tomorrow or easy plug and play routines then this certainly is NOT for you. If you like to think about magic, if you like to explore ideas, if you want Jason Messina's take on how the creative process works then you'll love this.

Like Wi and TUBE, the important thing is and has always been, the ideas. So what is presented here is a collection of ideas to spark further thought and consideration. This is not a book for the lazy magician or passive thinker.

To not disappoint the ones who do like new routines and the like, Jason Messina has tipped his hand on The Accidental Coin Vanish (the only coin trick he does) and the simple little nuances that make it sooo strong and bring it out of the realm of finger flicking. The psychology is the thing here. Jason Messina has gotten everything from jobs to dates from this simple juxtaposition of basic coin magic.

Throughout the book is Jason Messina's plight to figure out how to accomplish an impossible illusion and the end results. He has also introduced his friend Horatio Jones, who some of you may know. Thankfully, this is not the last you'll be hearing from him. He has much wisdom to share with us and has agreed to put some of his thoughts down in the near future.

Then there is Jason Messina's secret little pet handling of PK Touches. Several mentalists begged him to not put this in as they wanted to keep it to themselves. It has led to repeat bookings and viral publicity for those Jason Messina has previously shared it with. It can be applied to most magic you do and he could write a whole book on the subject. Here Jason Messina gives you all you need to start using it immediately. You will need Banachek's original routine if you want to use it with PK Touches.

There are essays on ideas, where they come from, tips on how to generate your own and some really off the wall handlings and routines that border on performance art. The Mental Midget was originally published in the first issue of Magician Magazine and has been revamped and improved for Method Impossible.

Jason Messina took a Paul Harris Conversation from the Edge and pulled it back just slightly onto stable ground. It still teeters but the routine is a ton of fun to perform. It's called Split Tunnel Vision.

Oh, and then there's the Kidnapped Princess, a piece that takes the Princess trick and uses people instead of cards and smashes it into a presentation using a kidnapping for a truly strange performance piece. The idea can also be used with other non-human things.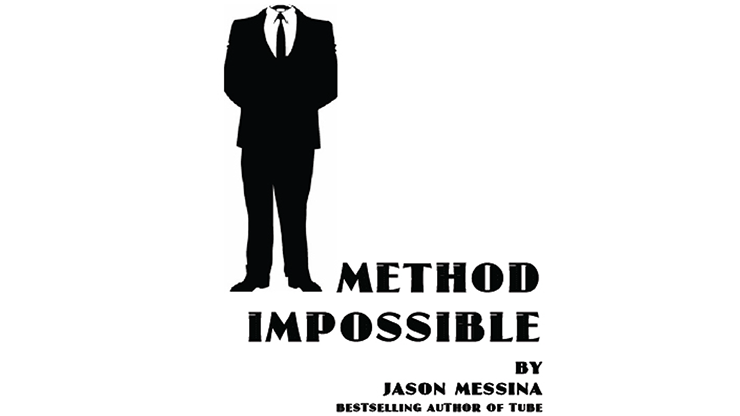 There have been no reviews