Magic Magazine August 2016 - Book
CONTENTS

AUGUST 2016
VOLUME 25
NUMBER 12

Cover Story 3
By Alan Howard
For this 25th Anniversary issue, we look at some of the memorable MAGIC covers from the past five years.

Whispering Bill Anderson and the Magic of Entertainment
By Norman Beck
Whispering Bill is a man who understands the metaphorical magic of entertaining.

Criss Angel's Mindfreak Live
By Stan Allen
A review of the latest major magic show to open in Las Vegas.

Perseverance: The Jason Bird Story
By Rory Johnston
Adversity and setbacks can be overcome with dedication, as magician Jason Bird shows.

Creativity on Hand
By Shawn McMaster
Steve Axtell combines the allied arts of puppetry and magic for a unique place in the business.

Mickey & the Magician
By Alan Howard
Mickey Mouse is again a sorcerer's apprentice, live onstage at Disneyland Paris.

Plus Updates on...
ZUBRICK!, the new show at SandCastle Guam.
Awards in the name of Milbourne Christopher, Allan Slaight, and David Copperfield.
"Comings & Goings" news of David Copperfield, Amazing Johnathan, Siegfried & Roy, and Mandrake the Magician.
A glance at some upcoming conventions.
Bonus Content for the August Issue...
Video of excerpts from Mickey & the Magician at Disneyland Paris.
All 23 of the products reviewed in the August issue, plus 666 reviews from previous issues, are all now available at the fully searchable "Marketplace" section of M360.
Marketplace
Twenty-three products are reviewed this month by Michael Claxton, Peter Duffie, Gabe Fajuri, Jared Kopf, Jim Krenz, Francis Menotti, Peter Pitchford, John Wilson:
Legacy by Finn Jon and Luis de Matos
The Complete Walton, Volume 3 by Roy Walton
Move Zero, Volume 1 by John Bannon
Stacks by SansMinds
The Dream Act by Shin Lim
Mysteriouser and Mysteriouser by Raj Madhok
The Performance Pieces & Divertissements of the Famous Handsome Jack, etc. by Handsome Jack, annotated by John Lovick
Cheppum Panthum Coconut Shell Cups and Wand Set by Gary Kosnitzky
Wi by Jason Messina
Shuffled by Jos Denys
X-Ray by Rasmus
Polarity by Pablo Amira
Sleeving by Lukas and Seol Park
The Travelling Trickster by Mel Mellers
The Seer's Gift by Andreas Sebring
MAGIC Magazine, Vol. 1, No. 1 by Stan Allen
Novo by Alan Rorrison
Phase by Josh Janousky
Opus by Nefesch
Anything but Ordinary Addie: The True Story of Adelaide Herrmann, Queen of Magic by Mara Rockliff and Iacopo Bruno
Egyptian Ink by Abdullah Mahmoud
Arcana by Pablo Amira
The Butterfly Effect by Peter Nardi

First Look: Mentalissimo
John Bannon
John Bannon is well known to card trick aficionados. Known for constructing layered, easy-to-do effects with playing cards, his recent collections are widely acclaimed, international bestsellers. His new collection is sure to garner the same enthusiastic approval. In Mentalissimo, John brings his talents to bear on mentalism with playing cards. Almost all the effects use regular, unprepared cards. Most are impromptu. "I do card tricks," he says. "Have a keen interest in mentalism. Am a fanatic about the construction of magic tricks." Clean Out Of Sight is a pure demonstration of the performer's and his participant's psychic power. Together, they locate the participant's genuinely thought-of card.

First Look: Mysteriouser and Mysteriouser
Raj Madhok
A dermatologist from Minneapolis, Minnesota, Raj Madhok's true passion is mentalism and close-up magic. His magic has been published in numerous magazines and books, and he consulted on the Mysterious World of Alain Nu television series. His current collection of mentalism features impromptu close-up mentalism. In the trick Best of Friends, five business cards are given to a participant. She is asked to think of the name of her best friend. On the blank back of four cards she is asked to write the name of four other friends, and the best friend's first name on the final card. The cards are mixed, yet the magician can divine the name of the best friend.

Making Magic: Coupons
Martin Lewis
This is a torn-and-restored effect using a single newspaper page or magazine cover. I created it in the 1970s while working at Earthquake McGoons Magic Cellar in San Francisco, but it has evolved over the years to what it is now. The beauty of this method is that you end clean and can immediately hand out the restored paper or use it in another effect. I'm a believer in cause and effect, whenever possible, and my presentation gives a good reason to hand out the restored paper. It also affords me some coupon humor, too.

Loving Mentalism: All About Me
Ian Rowland
This month's mentalism offering is a stage item that blends perplexing mystery with plenty of laughs and audience participation. The idea is simple. You make a series of improbable-sounding statements about your life, and people in the audience try to guess which are true and which are lies. Sometimes they guess correctly, sometimes not. This is all good fun, but then comes the mystery: you show that you correctly predicted every one of the audience's verdicts, as if you knew in advance exactly what they would or would not believe. The audience's verdicts are free and fair. No forces, no preshow. The prediction is set in stone from the start, and free from any gimmicks - it's just a printed prediction you can give away at the end. A truly baffling mystery!

Bent on Deception: Quiet! The Grown-ups are Talking!
Mike Bent
I've written in the past about dealing with hecklers in a comedy club, but this month I want to talk about dealing with hecklers at kid shows. Think drunks in a comedy club are bad? They're a cakewalk compared to the nemesis of every kid-show performer: chatty, clueless adult audience members. I hardly ever have a problem with kids at a kid show. I can handle them because I fully expect them to act like kids. I don't get thrown, because I can anticipate their behavior, good or bad. But adults who should know how to behave - but don't - can make a show a nightmare. Here's a rogue's gallery of the basic types.

The Monk's Way: The Monk Goes Techno
Steve Reynolds
The main thrust of these "Monk's Way" articles has been on subtlety in the methods of tricks, and every so often we have revealed how these kinds of approaches can be applied to technique. But most have been within the context of tricks or moments in tricks. Now we move out of context and focus on a method for setting up one of the most deceptive false shuffles available. At one time the basic idea was very much underground. I independently developed what I consider a very strong means of getting set for the false shuffle. Now, eighteen years later, the basic idea has made its way above ground far enough for me to share my method.

For What It's Worth: Do You Want Me to Say Something if I See Spinach Between Your Teeth?
Mark Kornhauser
Of course you do. A person afflicted with spinach-tooth looks ridiculous and doesn't know it - which makes him look more ridiculous. And even though it's a simple procedure to remove the spinach, if no one mentions the offending leafy blemish, it may stay there for a long time. Years, even. I'm speaking, of course, of metaphorical spinach: the glaring problems we see in other performers but cannot see in ourselves.

Walkabout Soup: The Creativity Stewpot
Simon Coronel
I frequently think of the creative part of my brain as a huge pot of minestrone soup. Or maybe a gumbo. Some kind of big primordial soup or stew that you throw all kinds of miscellaneous ingredients into, stir them together, and hope they generate something that tastes good. Of course, not everything you pull out will be good. Often, the flavor combination will be terrible, and the idea quickly discarded. But every now and then, an unexpected combination of ingredients will turn out to work amazingly well together.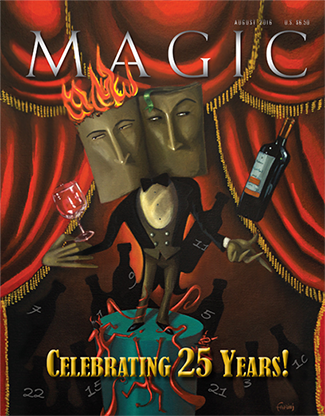 There have been no reviews