Bring Back the Schtick (2 DVD Set) by Quentin Reynolds - DVD
Possibly the most valuable DVD you will ever own if you perform or are planning to perform magic in your shows for children.
You want to develop a well-structured show that is so much fun to perform, even if you've never done a show in your life (so well structured that even with a nasty dose of flu, the flow of the show will carry you through).
You're a teenager and looking for extra income, or to pay your way through college (at the age of seventeen Quentin was making more money weekends than his teachers were earning in a week).
You have a job but want to do some shows to supplement your income, and you want to be able to hold your own with any pro.
You're retired and want to perform for the pleasure of it as well as generating some extra income in your spare time.
You're already a pro and want some new proven material that's been already tested through thousands of performances.
The ideal magic show for children should be endless fun. It should have light and shade, lots of participation, lots of laughter and good strong magic.

In this double DVD set, you will discover:

How to get more reaction from the tricks you already do regardless of whether you do any of the tricks on the DVD.

Ways of getting audible gasps from the magical effects.

Tons of gags and bits of business - good solid SCHTICK!

A range of routines you will want to add instantly to your show.

We taped three shows for three different age groups and Disc One contains a selection of those routines.

Disc 1

Silver Sceptre - Tips on getting better reactions and more laughter from this classic effect.

Handkerchief Mouse - (Performance only, full details on the Five Minutes With a Pocket Handkerchief DVD).

Magic Drawing Board - Extra gags and tips on timing that can be added to your existing routine, or simply use this routine as is.

Lovey Duck - At least five minutes of action packed magic, laughter and surprises.

Cedric's Phone - A delightful bit of business for younger children that can be used to introduce your next trick.

Invisible Silks - A small child keeps putting one over on the magician.

Origami Art - A trick that has many uses and will also fit into any themed show.

Obedient Block - The children catches the magician as he tries to trick them, ending with the whole trick backfiring on the performer with a big laugh.

Three Worms - A fun presentation for Professor's Nightmare/Unequal Ropes.

Cords and Wand - Eight to ten minutes of schtick that can be used at a house birthday party or on a large stage.

Wandering - Block two great ideas to add to your Wandering Block or ABC Blocks routine, guaranteed to increase the reaction of both adults and children and will fool those who are familiar with the trick.

Fishing Competition - A novel competition that adds ten minutes of laughter and excitement to your show. Great fun as well at adult parties.

Chinese Rings - If you do any kind of Linking Ring routine you will find a number of gags and suggestions to benefit your own routine.

Disc 2

An interview with Quentin Reynolds.

PLUS: A look at some of the children's entertainers of yesteryear and their legacy of excellent magical effects, any one of which could be a highlight in your show.

Bertram's 'Letter for the Conjuror' and 'Changing Die'
Eric P. Wilson's 'Wunda Villa' and 'Snowman'
Ken Little's 'Mysto the Mighty'
Peter D'Arcy's 'Magic Bricks'
George Wallman's 'Carrier Bag Gag'
Cedric Richardson's 'The Rose'
Len Belcher and Bob Ostin's 'Choo Choo Train' (a great bit of business and especially for a Wild West Show)
Ali Bongo's 'Clarence and the Magic Thingamajig'
Milbourne Christopher's 'Forgetful Freddie' - a new look.

"I don't perform for children but I thoroughly enjoyed these DVDs. Quentin not only tells us how but, more importantly, why. Excellent thoughts on psychology, acting, timing, pausing and pointing. I especially enjoyed the second disc where Quentin talks about British children's magicians of the past and demonstrates some of their wonderful magic. Really fascinating."
- Eugene Burger

"If you want to know what a professional children's entertainer LOOKS like, ACTS like and THINKS like, then Quentin's DVD set should surely be an essential resource. Years of research and thought, and thousands of shows are clearly evident, and it is all brought to you with a real generosity of spirit."
- Richard McDougall

"As is your tremendous DVD set, I have already watched the set twice since Tuesday when taking a break from study, and as I assumed prior to then it was the best investment I have ever made in my career."
- Oisin Foley

"This is absolute gold to any children's entertainer whether experienced or a beginner."
- Terry Herbert

"This is not a video lasting 40 minutes or so - no - in fact its duration is 240 minutes. No padding. Packed with superb presentations and explanations - bits of business and comedy gags suitable for all age groups. I thoroughly recommend this set of DVD's to all children's entertainers. It's one of the best I've ever had the pleasure of watching."
- Ian Adair

"A gold mine of material for anyone performing for a variety of audiences age 3-5, 6-8 and 9 and up! His material is seasoned and perfected, doing many classics with all those extra bits added that make this a DVD a wealth of material for anyone, newbie or professional looking for bits to add and make their show fresh."
- Alan Sands

"All I can say is if you are into entertaining children with magic, this DVD will not disappoint. Quentin is a real thinker and I loved watching this guy work. It becomes obvious right away that he thinks out every single facet of each routine to make it the best it can be. I can honestly say I have learned some new things from watching this DVD, especially the importance of 'pauses' and Quentin is a master at this bit-of business. I definitely give this DVD two thumbs up!"
- Tommy James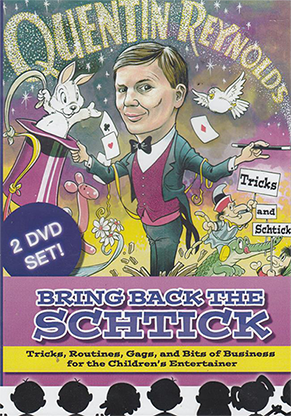 There have been no reviews