Slasher by R. Shane - Trick
This Packet trick KILLS!!!

Imagine weaving a tale of close-up horror and suspense, as well as getting to spoof those Hollywood horror movies at the same time.

Slasher has been the most requested effect from R. Shane's book, Pentalogy- and now we are proud to release it.

Effect

Four photos of cheerleaders are shown, along with twelve blank cards. The four cheerleaders are placed on the table in a row and each picture is covered with three blank cards.

The performer, playing the part of the horror movie "Slasher", attempts to "kill" one of the cheerleaders, but the cheerleader is found to have left the pile, escaping the "slasher's" evil and gory plan; she's found to have joined another cheerleader in another pile. This continues, with the poor "slasher" failing miserably at his goal.

Finally, the "slasher" viciously and violently attacks the last pile of cards; turning that pile over, all four cheerleaders are found horribly disfigured and dismembered. The performer though explains that he really isn't a "maniac slasher", and no matter what the spectators saw, it was "only a movie". The dismembered cheerleaders are shown to be completely intact, restored to their normal state of anatomical correctness.

Yes, a commercial packet trick which has been performed by Shane MANY times in table hopping settings.

Easy to reset, and at the end the ladies can be easily magically restored to their former "beauty."

The instructions are very thorough including complete script and story-line ideas. Full performance rights and a set of the cards.

Note- for those who have the book Pentalogy- the handling has been altered a bit from the original to be cleaner and work with fewer cards.

Also included are refresher notes on the simple sleight that is required. Something commercial, comical, topical, and maybe just a tiny bit disturbing!





Click on the following thumbnail image to get a full-size printable flyer for Slasher!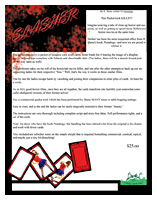 There have been no reviews